We are proud that our Founder, Claire Poole, is mentioned in this article, which appears in Sports Business Journal as 'doing more than anyone alive to mobilize convocations for sustainability advocates throughout the sport world' (in bold, below – our emphasis).
****
Published December 18, 2017, Page 31
By Allen Hershkowitz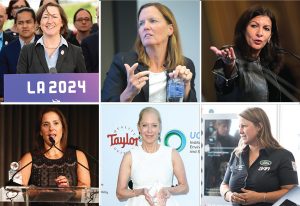 In 2017, sustainability in sports was most affected by extreme weather and the dominant role played by women.
Climate-related catastrophes worsened in 2017, canceling sporting events throughout the world and transforming sports venues into emergency rescue centers. Droughts, floods, rising seas, wildfires, storms and hurricanes incurred hundreds of billions of dollars in economic losses in sports communities. In the U.S. alone there have been at least 15 climate-related disasters as of October, resulting in hundreds of deaths, and economic losses likely to exceed $200 billion. Internationally, the World Health Organization estimates that within 10 years or so, climate change will cause approximately 250,000 additional deaths annually. Sports is not immune to these impacts. Indeed, the design of sports venues must now anticipate use as rescue shelters for people displaced during extreme weather events.
It is not only climate change that plagued sports in 2017. Other forms of pollution also affected games: On Dec. 3 a cricket match between India and Sri Lanka was repeatedly interrupted because players were vomiting due to hazardous pollution levels in the Indian capital, which were 15 times WHO limits at the Feroz Shah Kotla stadium in Delhi.
The United Nations Framework on Climate Change promotes a "gender-responsive climate policy" urging representation of women in all decision-making related to climate policies. Similarly, the U.N.'s 17 Sustainable Development Goals also focus on promoting gender equality. With this in mind, it is satisfying to note the influential role played by women promoting sustainability in sports throughout the world. Collectively, these women have changed sports, and they have broadened the reach and relevance of the environmental movement.
When it comes to sustainability policies in sports, global leadership is defined by the IOC's Sustainability Strategy, and that work is led entirely by women. These women include Marie Sallois Dembreville, the IOC's director of corporate development, brand and sustainability; Michelle Lemaitre, the IOC's head of sustainability and Olympic legacy; Julie Duffus, the Olympic movement sustainability manager, and Lise Van Long, the IOC's corporate sustainability manager. Similarly, it is a woman, Hyeona Kim, who serves as the senior project manager in charge of sustainability for the Pyeongchang Organizing Committee for the 2018 Olympic and Paralympic Winter Games (POCOG). In Paris, the city's first female mayor, Anne Hidalgo, has labeled her city's 2024 Olympics as "The Green Games," and for the LA 2028 Olympics it is also women, Brence Culp and Ann Duffy, who are overseeing sustainability.
Mobilizing sports industry leaders globally toward sustainability takes an enormous amount of work. It is Claire Poole, the founder of ClearBright Consulting, working in collaboration with the U.N., who is doing more than anyone alive to mobilize convocations for sustainability advocates throughout the sport world. In Australia, Claire's mobilization of sports industry leaders is mirrored by Sheila Nguyen, executive director of Australia's Sports Environment Alliance.
At the NBA, Kathy Behrens, the league's first president of social responsibility and player programs, created the NBA Green program with former Commissioner David Stern and, more recently, with Commissioner Adam Silver. Behrens' sustainability team at the NBA also includes numerous women who she has mentored to help advance the league's environmental work. Similarly, at the NHL, Alicia Chin, the league's senior manager for corporate social responsibility, is working with senior officials in that league to implement one of the most effective sustainability programs in all of sports.
The greening program at the USTA was started by Billie Jean King. Accordingly, it is fitting that women have taken on her eco-mantle: Lauren Tracy, director of strategic initiatives at the USTA, working side by side with Bina Indelicato, founding partner of Eco Evolutions, has shepherded the USTA's premier sporting event to the heights of sustainability. Similarly, at the French Open it is Viviane Fraisse Grou-Radenez, the head of sustainability at the French Tennis Federation who has led the Roland Garros tournament through the rigorous ISO 20121 sustainability certification process … three times.
Women also rule sustainability in soccer. At MLS, JoAnn Neale, chief administrative and social responsibility officer, oversees sustainability responsibilities, while Helen Taylor, one of the world's top sustainability experts, holds the position of chief executive officer for Forest Green Rovers FC. Helen's team was designated by FIFA this year as "football's greenest club."
Sustainability in motorsports is also led by women: Catherine Kummer, senior director of NASCAR Green Innovation, is leading that organization's sustainability work, while at Formula E Julia Palle oversees global sustainability work. Palle also serves as the vice president of Sport and Sustainability International. At the FIM, it is Kattia Juarez Hernandez, director of international environment commission, who is directing sustainability.
In sailing, Wendy Schmidt at 11th Hour Racing has been driving sustainability initiatives for years, and her work is abetted by women at other sailing organizations, including Amy Munro, Land Rover Bar's sustainability director, and Anne-Cécile Turner, sustainability programme leader at the Volvo Ocean Race.
What is remarkable about this list of ecologically committed women in sports is how incomplete it is. There are scores of women not named here who are designing sustainability strategies at sports leagues, teams and venues.
Apologies for my inability to list them all — if that were even possible. The work of these women is nurturing the planet and inspiring millions of people. If humanity does manage to escape the harshest consequences of climate change, it will be in no small part due to the accomplishments of the women who now rule the sports and sustainability movement.
Allen Hershkowitz is a founding director of Sport and Sustainability International. Follow him on Twitter: @drhershkowitz

This article is republished, and the original can be found here: http://www.sportsbusinessdaily.com/Journal/Issues/2017/12/18/Opinion/Hershkowitz.aspx